API 682 CATEGORIES ARRANGEMENTS AND SEAL TYPES


DOWNLOAD CATALOG
API 682 is the leading document for mechanical seals in petrochemical, chemical and pipeline service worldwide. It has combined aspects of seal design, testing , standardization and applications to provide the users and OEMs alike with a common source of information for mechanical seals. As seal technology has advanced the standard has expanded to incorporate new seal design, materials ,seal selection guidance and piping plans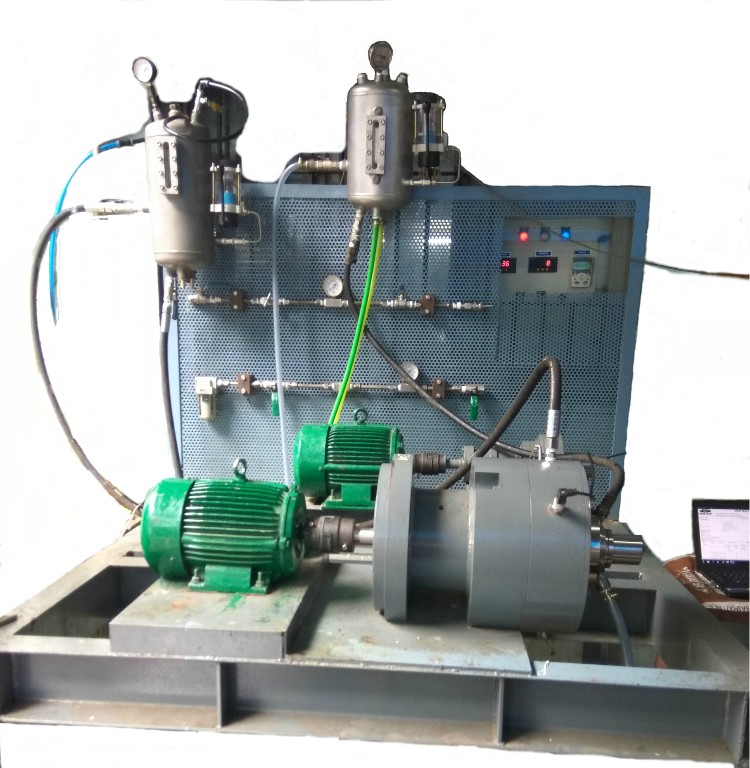 History of API 682
API standard 682 was originally published in 1994.The standard was the result of the efforts of key rotating equipment engineers in the refinery industry. The purpose of the standard was to capture proven solutions to the most common sealing applications seen in refineries. There was no attempt to cover every type of rotating equipment , mechanical seals or application. Rather the standard was to serve as a guide to selecting seals based on what was working in actual services . As part of the process in developing the standard , the API 682 Task Force created definitions for concept such as seal types, seal arrangements , seal qualification tests. Later editions introduced the concept of seal categories and new seal designs such as gas seals and containment seals. Additional options for seal configurations and orientations (such as dual face to face and back-to-back ) were added. The scope of the standard was also broadened to include seals for chemical duty pumps . In the process new piping plans and test qualifications procedures were developed to cover the new scope.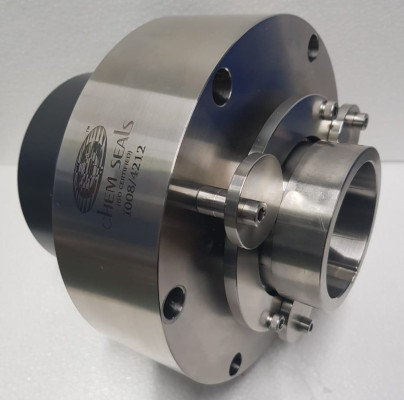 API 682 4th Edition
API 682 has created definitions for many of the common features and attributes of mechanical seals and systems. When new concepts are introduced or options are added to the standard, they must be captured in the definitions. The definitions in the Fourth Edition have been revised to be more consistent with terms that are used in the sealing industry in general
Below are the new definitions added to the Fourth Edition :
Atmospheric Leakage
Collector
Auxiliary Sleeve
Barrier/Buffer Fluid Chamber
Containment Device
Containment Seal Chamber Leakage Collector
Dynamic Secondary Seal
Engineered Seal
External Circulating Device
Fixed Bushing
Fixed Throttle Bushing
Pumped Fluid/Process Fluid
Seal Sleeve
Segmented Floating Bushing
Strainer
Mechanical seals
Adaptation of pressure limits: 20 bar(g) Category 1, 40 bar(g) Category 2/3
Detailed notes to "Engineered Seals"
Combination of "Seal Types" In Arrangement 2/3
Definition of vapor pressure margin
Overview table of internal gap dimensions
Selection Sic face material independent of category
Optional bellows material Alloy 718 for metal bellows seals Type B
Additional requirement for set screws for torque transmission
New details to selection and operation of pressurized double seal systems
Reduced minimum gap at the internal pumping device
Seal code revised
Seal supply system
Transmitters instead of switches
Alternative arrangement selection method on the basis of Risk & Hazard codes
New API Plans 03, 55, 65A, 65B, 66A, 66B, 99
Hydrostatic level detection for Plans 52, 53A
Temperature measurement of gas bubble for Plan 53B
28-day refilling interval for barrier pressure systems
Minimum pipe wall thicknesses of 2.5 mm for welded joints
Temperature limits for instrumentation
Qualification test details
Sealing Systems Seal Hierarchy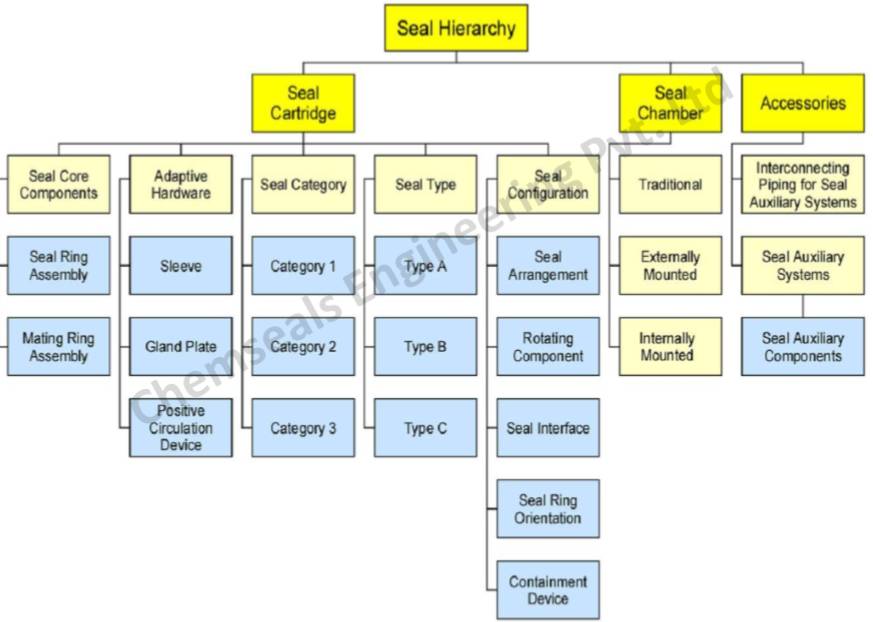 Definitions
The longer , more involved definitions have been moved from section 3 into the general body of the standard. For example the definitions of Arrangements , Categories and Types have been moved into section 4 .
The type A and B seals are no longer defined as having rotating flexible elements and type C is not defined as having a stationary flexible element.
Instead ,the design choice of having the flexible element rotate or remain stationary is independent and said to be technically equivalent.
Sealing Systems Configurations
A change has been made to the specification for the throttle bushings
A fixed bushing now only for category 1 ( previously it was for categories 1 and 2).
Floating bushings are required for category 2 and 3
In addition segmented carbon bushings now an option for category 2 and category 3 seals
Sealing Systems Configurations
Three arrangements
- Single
- Dual unpressurized
- Dual pressurized
Interface
- Contacting
- Non contacting
Liquid vs. Gas
Throttle bushing type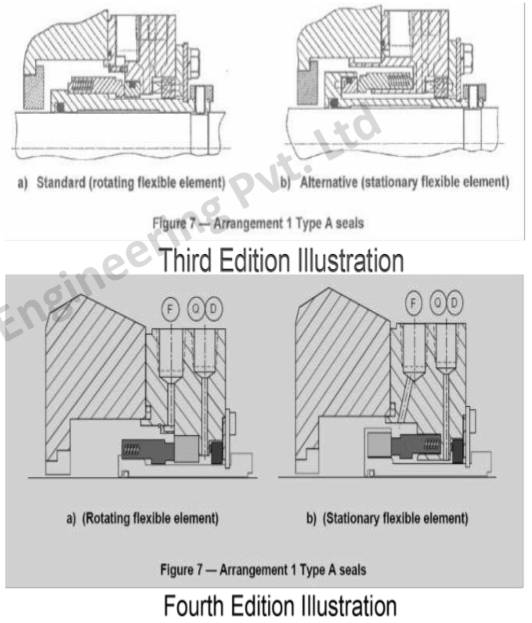 Seal Configuration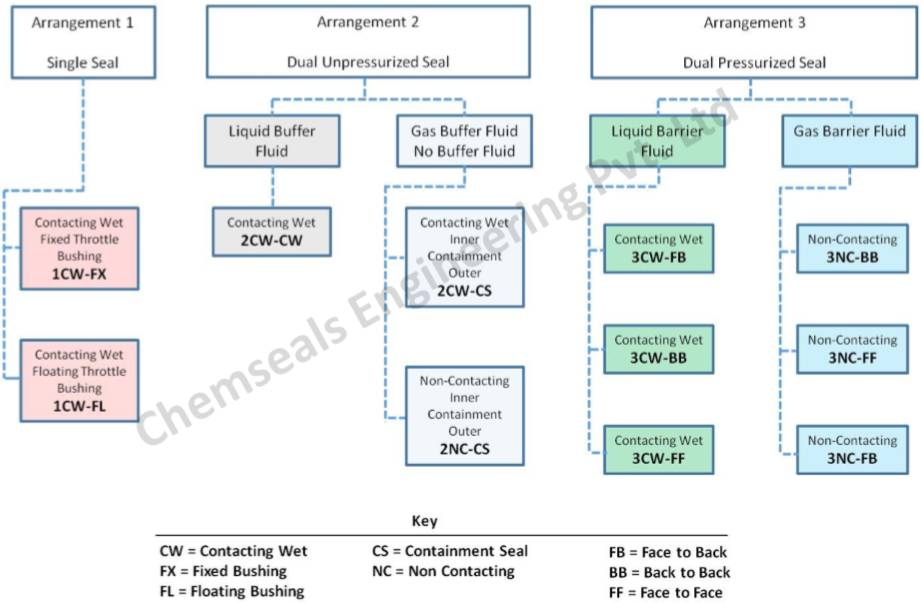 Shipping Plugs
A special detail of the 4th Edition is the new red plugs with yellow tag that are inserted into the supply connections of the seal gland when the unit is delivered. These plastic closures prevent the ingress of dirt in the seal. During operation, the connections are either assigned to pipelines, or the plastic plugs are replaced with enclosed metal plugs. A nice side effect: 4th Edition API seals are quickly identified by the red plugs.

Clearances
The essential improvements - in addition to all the technical supplements and updates are the clear structures of the latest API regulation. The body of text was tightened and restructured, while technical details and background information were placed in the Annexes
Clearances are based on the shaft diameter.
Minimum clearances
- Outside of rotating part to inside of chamber or gland
- Outside of seal part to inside of another seal part
- Outside of circulation device to inside of gland
- Outside of rotating part to inside of containment fixed bushing (containment seal configurations).
Maximum clearances
- Outside of sleeve to inside of floating bushing
- Outside of sleeve to inside of fixed bushing
Clearances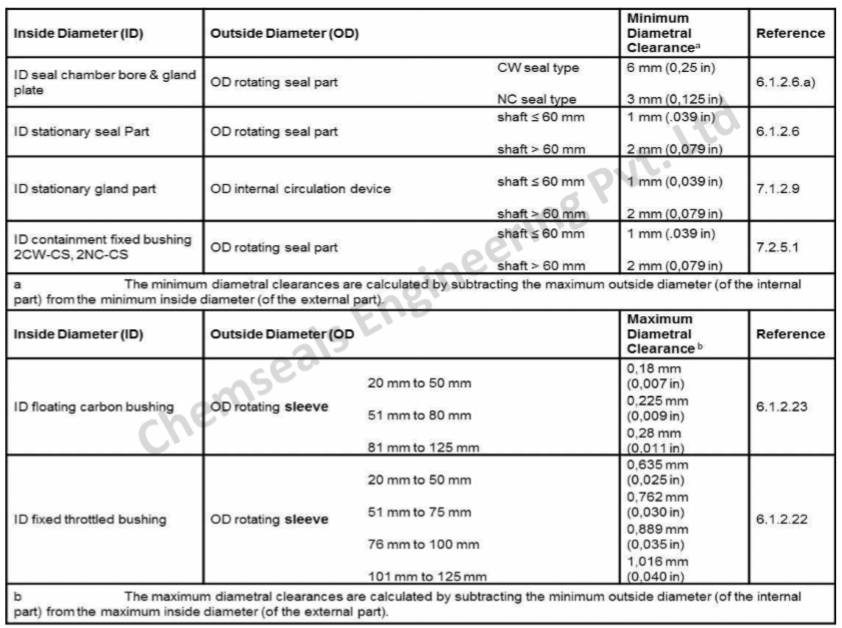 Less prescription
An example of being less specific found in the requirement for positive retention of seal components under reverse pressure conditions (either vacuum or internal vs. external pressure).t
The new addition now provides an alternative figures and list them as "example of such design"

Instrumentation changes
Transmitters instead of switches.
The 4th Edition heralds a change to modern transmitters for the supply systems. They may be more
cost-intensive than switches, but they transmit continuous measured values in return. The control room knows the actual system status at any time and can immediately sound the alarm in case of irregularities.
Inspection Testing Preparation for shipmen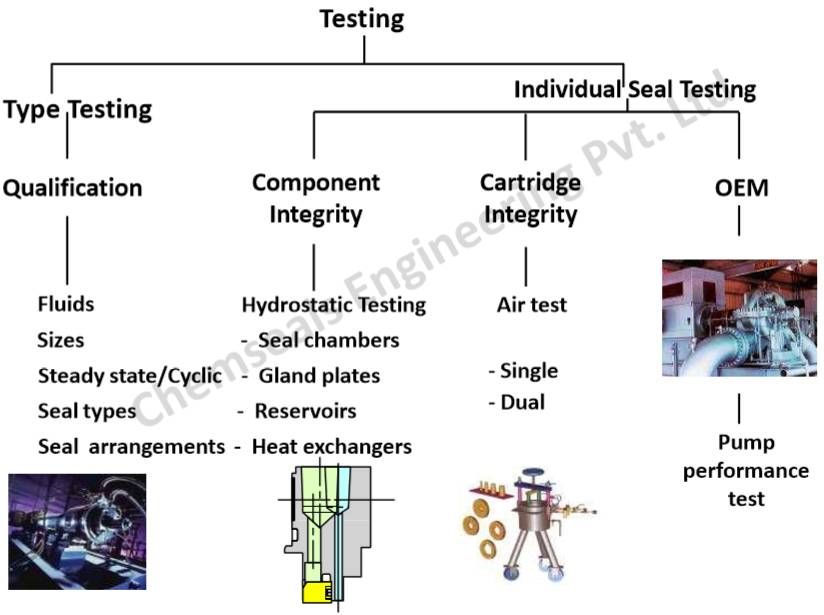 Testing
Qualification tests have existed since 1st Edition.
Details of qualification testing moved to Annex I and updated.
Assembly integrity test retained in section 10
- Recognized sub-section
- No change in details
If glands are made from bar stock they don't necessarily need to be hydro-tested