Wave Spring Type Mechanical Seal:CS2


DOWNLOAD CATALOG
Features of Wave Spring Type Mechanical Seal:
Single Seal
Unbalanced
Independent of direction of rotation
For plain shafts
Super-Sinus-spring or multiple springs rotating
Variant with PTFE secondary seals for high chemical resistance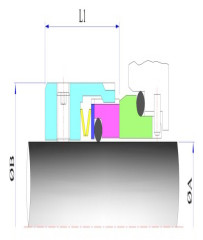 The CS2 mechanical seal range is designed for universal application and ideal suited for standardization. The loosely inserted seal faces are easily exchanged, permitting all combinations of materials and stock rationalization.
Advantages
Insensitive to low solids contents
Flexibility in torque transmissions
Self cleaning effect
Short installation length possible
Pumping screw for media with higher viscosity
Applications :
CS2 is used for water pumps , chemical industry, sewage pumps , submerged pumps etc.
Operating Condition :
Temperature : -50 C to +220 C
Pressure : 16 bar g
Speed : 20 m/s
| | | |
| --- | --- | --- |
| ØA | ØB | I1 |
| 14 | 25 | 25 |
| 16 | 27 | 25 |
| 18 | 33 | 26 |
| 20 | 35 | 26 |
| 22 | 37 | 26 |
| 24 | 39 | 28.5 |
| 25 | 40 | 28.5 |
| 28 | 43 | 31 |
| 30 | 45 | 31 |
| 32 | 47 | 31 |
| 33 | 48 | 31 |
| 35 | 50 | 31 |
| 38 | 55 | 31 |
| 40 | 57 | 31 |
| 43 | 60 | 31 |
| 45 | 62 | 31 |
| 48 | 65 | 31 |
| 50 | 67 | 32.5 |
| 53 | 70 | 32.5 |
| 55 | 72 | 32.5 |
| 58 | 79 | 37.5 |
| 60 | 81 | 37.5 |
| 63 | 84 | 37.5 |
| 65 | 86 | 37.5 |
| 68 | 89 | 37.5 |
| 70 | 91 | 42 |
| 75 | 99 | 42 |
| 80 | 104 | 41.8 |
| 85 | 109 | 418 |
| 90 | 114 | 46.8 |
| 95 | 119 | 47.8 |
| 100 | 124 | 47.8 |
---