Mechanical Seal Pusher Seal
Pusher Seals : - Type: CS 14


DOWNLOAD CATALOG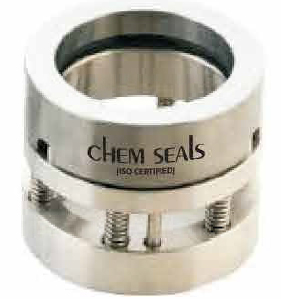 Features:
Independent on shaft roration
Unbalanced
Multi spring design
It is a three-piece rotary unit available in a wide variety of metallurgies offering flexible mechanical features with maximum reliability.
Application :
Chemical pumps for Fertilizer & Petrochemical Industries. These type are designed to handle clear fluid, hence easy in installation & maintenance multi spring design ensures uniform pressure on seal under all operating conditions.
Operating Conditions :

Temperature : -60°C to +160°C
Pressure : 10 bar
Speed : 22.5 m/s
| | | | |
| --- | --- | --- | --- |
| Seal size (Inches) | ØA | ØB | L1 |
| 1 | 25.4 | 39.7 | 41.27 |
| 1.125 | 28.575 | 42.85 | 41.27 |
| 1.25 | 31.75 | 46.2 | 41.27 |
| 1.375 | 34.925 | 49.2 | 41.27 |
| 1.5 | 38.1 | 52.38 | 41.27 |
| 1.625 | 41.275 | 58.73 | 44.45 |
| 1.75 | 44.45 | 60.32 | 44.45 |
| 1.875 | 47.625 | 65.07 | 44.45 |
| 2 | 50.8 | 68.25 | 44.45 |
| 2.125 | 53.975 | 71.42 | 44.45 |
| 2.25 | 57.15 | 74.59 | 44.45 |
| 2.375 | 60.325 | 77.77 | 44.45 |
| 2.5 | 63.5 | 80.94 | 44.45 |
| 2.625 | 66.675 | 84.12 | 44.45 |
| 2.75 | 69.85 | 87.29 | 44.45 |
| 2.875 | 73.025 | 90.47 | 44.45 |
| 3 | 76.2 | 93.64 | 44.45 |