Mechanical Seal Metal Bellow
Type: CSMB


DOWNLOAD CATALOG
Features: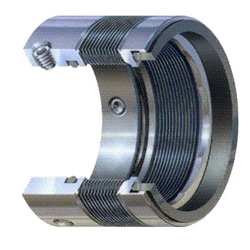 Single seal
Balanced
Independent of direction of rotation
Welded Metal Bellows
Provides superior performance in the most difficult process services. Allows for ease of seal installation Angle of bellows section is titled at the inner diameter weld to relieve stress concentration and provide longer seal life.
Applications :
It is used for Chemicals, thermic fluid, petrochemicals and refinery ,For process services requiring corrosion resistance. High pressure, extreme temperature pump applications.
Operating Conditions :
Temperature : -40°C for O Ring and 425°C For grafoil Packing
Pressure : up to 20 bar g
Speed : 20s m/s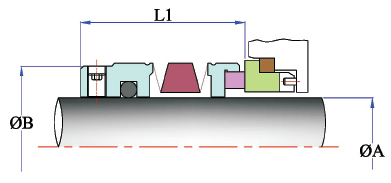 | | | | |
| --- | --- | --- | --- |
| Seal size (Inches) | ØA | ØB | L1 |
| 1 | 25.4 | 38.1 | 31.8 |
| 1.125 | 28.57 | 41.3 | 31.8 |
| 1.25 | 31.75 | 44.5 | 31.8 |
| 1.375 | 34.92 | 49.2 | 31.8 |
| 1.5 | 38.1 | 54 | 31.8 |
| 1.625 | 41.27 | 57.2 | 31.8 |
| 1.75 | 44.45 | 60.3 | 31.8 |
| 1.875 | 47.62 | 63.5 | 31.8 |
| 2 | 50.8 | 66.7 | 31.8 |
| 2.125 | 53.97 | 69.9 | 31.8 |
| 2.25 | 57.15 | 73 | 31.8 |
| 2.375 | 60.32 | 76.2 | 31.8 |
| 2.5 | 63.5 | 79.4 | 31.8 |
| 2.625 | 66.67 | 82.6 | 31.8 |
| 2.75 | 69.85 | 87.3 | 41.3 |
| 2.875 | 73.02 | 90.5 | 41.3 |
| 3 | 76.2 | 93.6 | 41.3 |
| 3.125 | 79.37 | 96.8 | 41.3 |
| 3.25 | 82.55 | 100 | 41.3 |
| 3.375 | 85.72 | 103.2 | 41.3 |
| 3.5 | 88.9 | 106.3 | 41.3 |
| 3.625 | 92.07 | 109.5 | 41.3 |
| 3.75 | 65.25 | 112.7 | 41.3 |
| 3.875 | 98.42 | 115.9 | 41.3 |